Straight shackle with threaded pin
---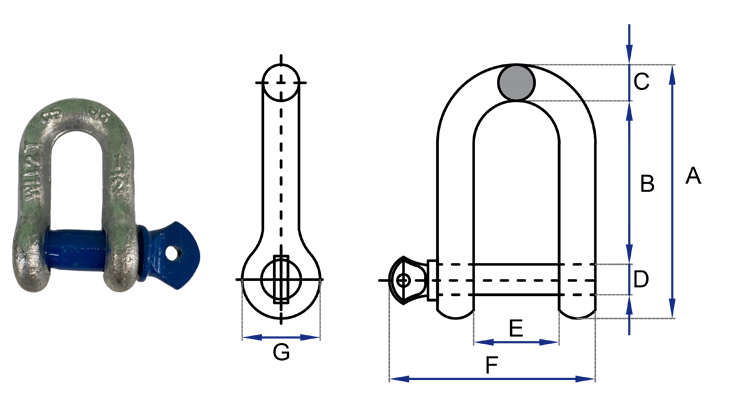 Body
diameter
Dimension (mm)
Pin
diameter
Workload
Weight
(pol)
A
B
C
D
E
F
G
(pol)
Kgf
Kg
1/4
45
25
6
8
13
37
17
5/16
500
0,040
5/16
50
31
8
10
14
43
21
3/8
750
0,070
3/8
60
36
10
11
17
53
27
7/16
1000
0,130
1/2
77
42
13
16
22
71
31
5/8
2000
0,290
5/8
99
53
16
19
28
86
39
3/4
3250
0,590
3/4
115
60
19
22
33
104
47
7/8
4750
0,980
7/8
133
72
22
25
37
115
55
1
6500
1,450
Obs. Adequado às especificações da norma US FED. RR-C271D, tipo IV-B, grau A, classe II.
Composition:
Made of forged 1045 carbon steel, reinforced alloy steel pin, threaded pattern G-210.
Finish:
Hot dip galvanized
Additional information:
Intended for use in cargo handling and lashing. suitable for US FED standard specifications. RR-C271D, Type IV-B, Grade A, Class II. High relief engraving indicating workload, measurement and other information.